Това събитие е минало събитие.
SUPERSONIC – Special Set by RADO: 13.04.23
април 13@22:30

-

април 14@01:00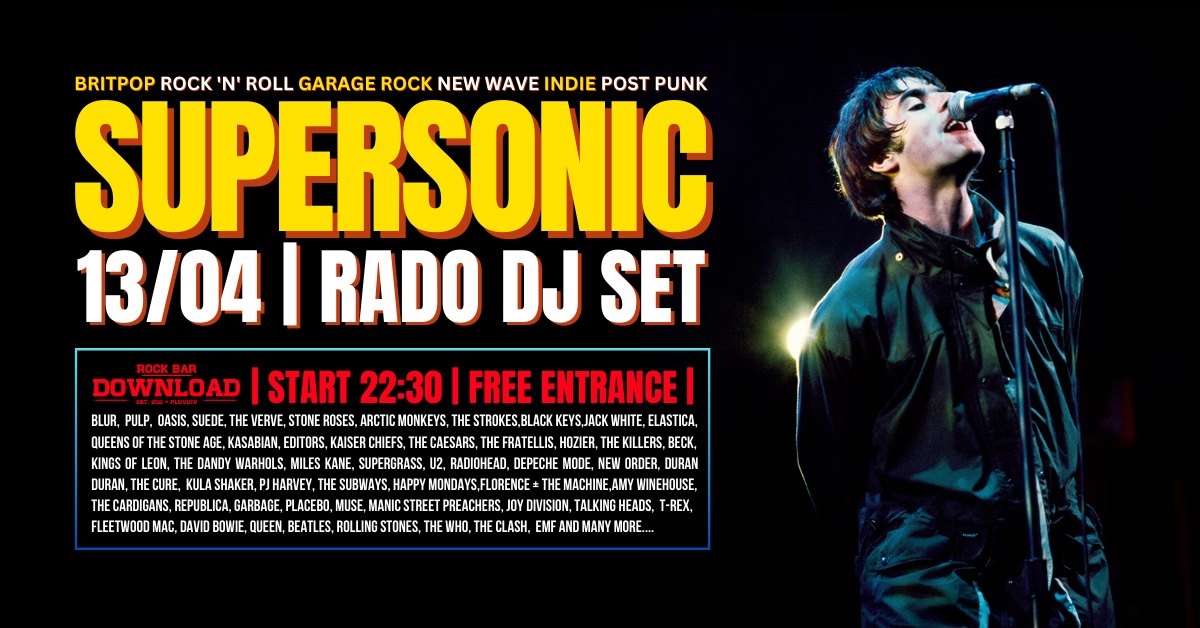 Рокендрол от добрата стара Великобритания и останалия свят!
** Жанрове: Бритпоп, Гаражен рок, Ню Уейв, Пост-пънк, Инди, Рокендрол и много още…
** Групи: Blur, Pulp, Oasis, The Verve, Stone Roses, Arctic Monkeys, The Strokes, Black Keys, Tha Racounteurs, Kasabian, Editors, Kaiser Chiefs, The White Stripes, The Caesars, The Fratellis, Foals, MGMT, Gorillaz, Cage The Elephant, Royal Blood, Tha Slaves, The Dead Weather, Ocean Colour Scene, Travis, The Kooks, Stereophonics, Keane, Pixies, R.E.M., Arcade Fire, Foster The People, Portugal. The Man, Of Monsters and Men, Wolf Alice, Hozier, The Killers, Kings Of leon, Coldplay, The Dandy Warhols, Miles Kane, Jack White, Beck, Iggy Pop, Lightning Seeds, James, Supergrass, U2, Radiohead, Depeche Mode, New Order, Duran Duran, Tears for Fears, A-Ha, Monaco, Kula Shake, The Hives, Happy Mondays,The Kills, Elastica, Catatonia, The Subways, PJ Harvey, Florence + The Machine, Amy Winehouse, The Cardigans, Republica, Garbage, Placebo, Muse, Manic Street Preachers, Cornershop, The Cure, The Smiths, Joy Division, Talking Heads, Fleetwood Mac, David Bowie, Queen, Beatles, Rolling Stones, The Who, Led Zeppelin, T Rex, Madness, The Clash, EMF и много още…
** Музикална селекция от: Радослав Гергов – RADO
** Четвъртък: 13/04/2023
** Старт: 22:30 h
** Вход: Свободен /18+/
** Резервации: +359 895 212 540
Rock and roll from the good old UK and the rest of the world!
** Music: Various – Britpop, Garage Rock, New Wave, Post-Punk, Indie, Rock 'N'Roll and more…
** Bands: Blur, Pulp, Oasis, The Verve, Stone Roses, Arctic Monkeys, The Strokes, Black Keys, Tha Racounteurs, Kasabian, Editors, Kaiser Chiefs, The White Stripes, The Caesars, The Fratellis, Foals, MGMT, Gorillaz, Cage The Elephant, Royal Blood, Tha Slaves, The Dead Weather, Ocean Colour Scene, Travis, The Kooks, Stereophonics, Keane, Pixies, R.E.M., Arcade Fire, Foster The People, Portugal. The Man, Of Monsters and Men, Wolf Alice, Hozier, The Killers, Kings Of leon, Coldplay, The Dandy Warhols, Miles Kane, Jack White, Beck, Iggy Pop, Lightning Seeds, James, Supergrass, U2, Radiohead, Depeche Mode, New Order, Duran Duran, Tears for Fears, A-Ha, Monaco, Kula Shake, The Hives, Happy Mondays,The Kills, Elastica, Catatonia, The Subways, PJ Harvey, Florence + The Machine, Amy Winehouse, The Cardigans, Republica, Garbage, Placebo, Muse, Manic Street Preachers, Cornershop, The Cure, The Smiths, Joy Division, Talking Heads, Fleetwood Mac, David Bowie, Queen, Beatles, Rolling Stones, The Who, Led Zeppelin, T Rex, Madness, The Clash, EMF and many more…
** Music Selection By: Radoslav Gergoff – RADO
** Thursday: 13/04/2023
** Start: 22:30 h
** Entry: Free /18+/
** Reservations: +359 895 212 540